Black Friday, Cyber Monday: Are they worth it?
This post kicks off a series of articles that will trace the prices of some of the top gifts, gadgets, and gizmos from Black Friday through to January 2016.
Welcome to Super Sales Season 2015!
In the past two weeks, you've probably been flooded with offers of discounts, sales, and "HUGE PRICE DROPS" that might all very well turn out to be meaningless. Honestly, how much have you really saved through splurging over the weekend?
Between the competing articles detailing Amazon's lightning deals and still others rounding up the ever growing list of sales items, it all adds up to a ton of noise. Whenever I open my laptop it's like websites and ads are screaming at me to buy things I don't need or want. This abundance of mostly useless information just burns me out. It's like they hope you'll buy things just for the sake of the sale.
And now that the dust has settled, we are tracking 30 products over 6 categories to provide an accurate snapshot of price fluctuations over the holiday period. We picked the upgraded versions of the popular gifts from the fall and winter of 2014. If you spot a favorite item, we invite you to keep checking back as we log in further data.
Without further ado, let the Winter Games Begin!
Methodology
Here's a quick overview of what we took into consideration when setting up the data-driven project.
Products
We limited the number of products to cut down on the noise ratio and to streamline the information gathering process. We also eliminated the variations of each of the products and chose a baseline representation to follow. So keep that in mind in case something you've been eyeing goes out of stock, it may just be that particular version.
Websites don't all display products the same way, so we had to make choices on sites that don't differentiate specific colors. For instance, there are some items like the iPhone 6S where color impacts price. In these cases, we chose a middle-of-the-road color to compare apples to apples as much as we can.
Heads up, Amazon does not directly sell certain Apple products, so we chose reputable third-party sellers.
Intervals
Stores often feature lightning deals and abrupt price shifts during the days before and after Black Friday and Cyber Monday. In order to capture the fluctuation of the prices, we monitor prices every 30 minutes. This interval will accurately capture the organic movement of prices.
As we continue this project, we will adjust the interval to reflect projected and potential price variations.
Tech and Trivia
For the tech-minded folk out there, we're using Scrapy, Scrapy Cloud, and Crawlera to get our data. Scrapy is an open-source Python framework that allows you to easily build web crawlers. Scrapy Cloud is, as the name suggests, our cloud-based platform to deploy, scale, and monitor Scrapy web crawlers. Zyte Smart Proxy Manager (Formerly Crawlera) is our smart proxy rotator, designed to crawl websites faster by spreading requests through a pool of IP addresses.
One of the issues that we ran into was certain companies were blocking our requests. We initially tried to add a delay between the requests through the DOWNLOAD_DELAY setting, but it didn't solve the problem. So we resorted to using Crawlera to conduct a gentle crawl.
This introduced a side effect though: requests were being redirected to the international versions of the sites because of the use of international IP addresses. Crawlera provides the option to be restricted to US-only IP addresses. We enabled that and problem solved. This tip will hopefully come in handy to our Crawlera users who may not be aware of this feature.
Vendors
We wanted to give you a sense of price differences across multiple product categories. So we chose major retailers and stores that offer a large variety of products:
Amazon
Best Buy
Sam's Club
Target
Walmart
Contenders
We aim to remove the guesswork from shopping during the holiday season, so hopefully you won't get too much buyer's remorse when checking back with us over the next month and a half.
Here is our list of worthy contenders:
Tablets
Apple iPad Air 2 64 GB Wi-Fi - Amazon's prices vary based on the color and the third-party seller
Apple iPad Mini 4 16 GB Wi-Fi -  Amazon's prices vary based on the color and the third-party seller
Apple iPad Pro 128 GB
Amazon Kindle Voyage
Samsung Galaxy Tab S2 8.0'' 32GB
Dell Venue 8 7000 16GB
Microsoft Surface Pro 4 256GB
Amazon Kindle Fire HD Kids Edition
Kindle Paperwhite
Wearables
Apple Watch Sport 42mm
Fitbit Charge HR Small
Fitbit Surge Small
Jawbone UP3 Black
Home Theater
Apple TV
Roku Streaming Stick - HDMI version
Google Chromecast
Amazon Fire TV Stick
Video Game Consoles
XBox One 500GB Console with Gears of War: Ultimate Edition Bundle
PlayStation 4 500GB Uncharted: The Nathan Drake Collection Console Bundle
Wii U Deluxe Set
New Nintendo 3DS XL - Red
Phones
Samsung Galaxy Note 5 32GB - unlocked on Amazon and Best Buy, carrier-locked on Sam's Club and Target
iPhone 6S 16GB and iPhone 6S Plus 16GB - unlocked on Amazon, carrier-locked on Sam's Club and Target, with price varying based on the color on Amazon and the third-party seller
Google Nexus 6P by Huawei
Samsung Galaxy S6 Edge 32GB unlocked
Toys
Star Wars BB-8 Droid Remote Control
Star Wars BB-8 Droid Sphero
LeapFrog LeapTV
LeapFrog Epic Tablet
Mega Bloks Minions Supervillain Jet
Results over Black Friday and Cyber Monday
We broke down results by product category to keep things readable.
Tablets
Tablets are always a big hit whether you are buying them as a gift or just as a treat for yourself. These are some of the top tablets for this winter season. Hopefully you won't beat yourself up too much if you already missed the lowest deal.
Honestly, not too huge a difference except for a couple of minor price variations. Black Friday does seem to have been the better deal on the whole.
Wearables
Between fitness trackers and the rise of smartwatches, wearables are going to be pretty much everywhere you look. Here is a taste of some of the top models out there.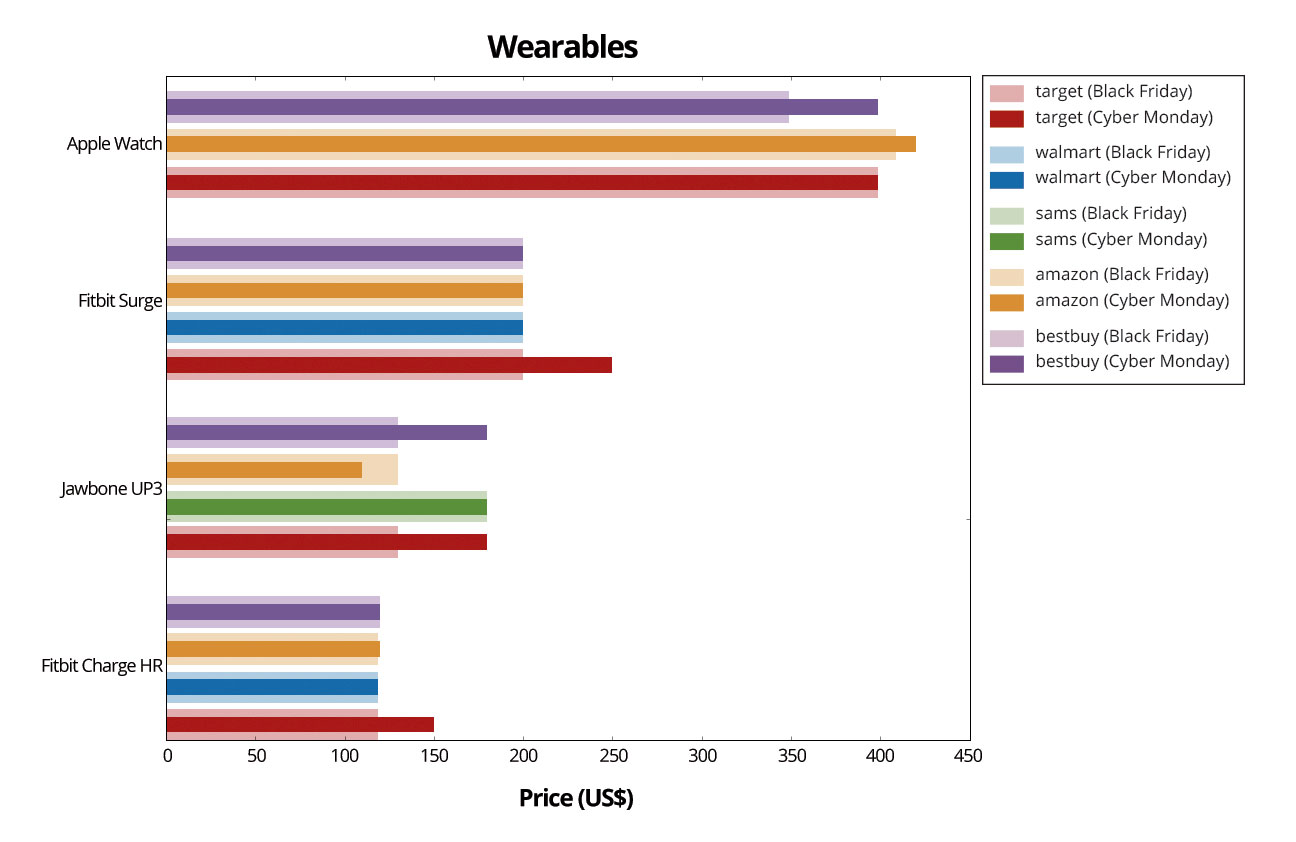 Once again, it seems that Black Friday reigns minimally supreme, with Sam's Club really raising prices on Cyber Monday.
Home Theater
Who doesn't like to Netflix and Chill? Plus, with all of the fantastic shows out this season, now is the time to pick up a handy streaming device for your TV.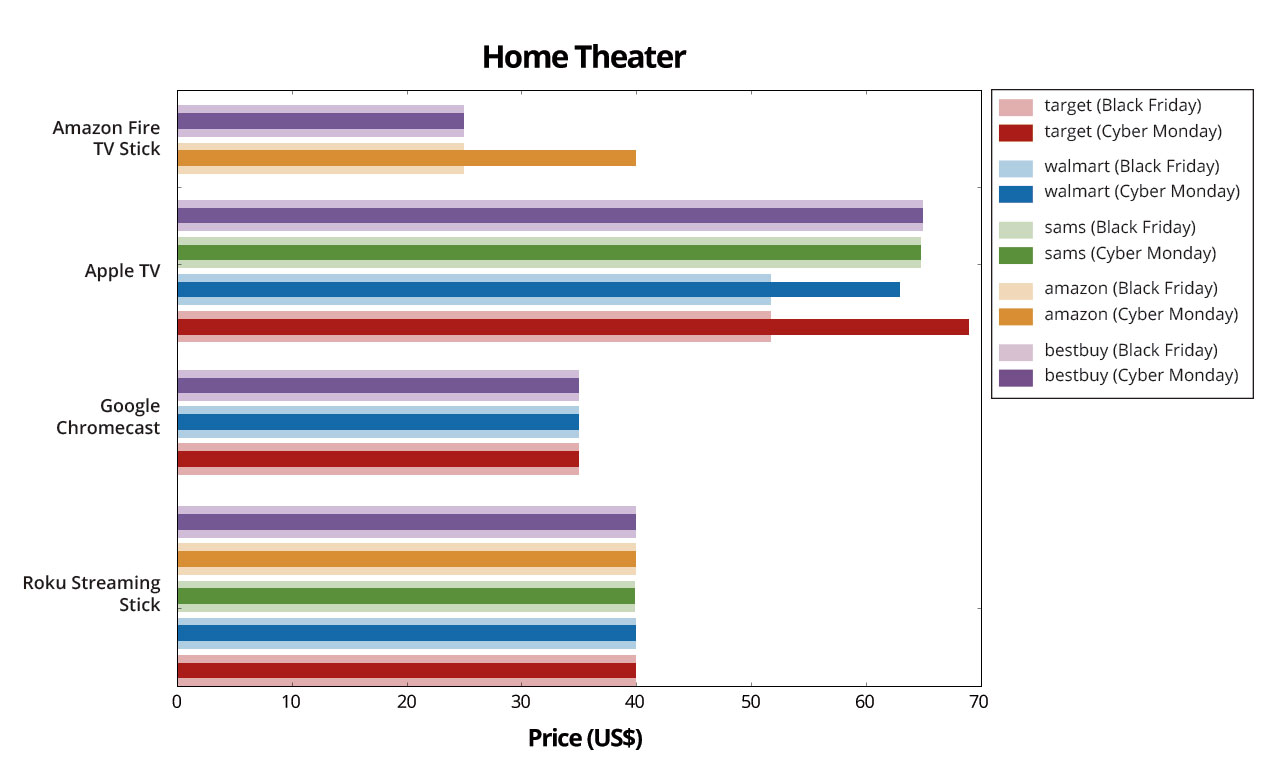 At this point, Cyber Monday is really not living up to its deal steal reputation with Best Buy, Sam's Club, and Walmart all raising their prices.
Video Game Consoles
Black Friday and Cyber Monday are both traditionally huge for delivering great deals on game consoles and bundles. If you were thinking about taking the leap on a new system, this might be the right time for you to make the jump.
Clearly the Nintendo 3DS XL and the Wii U were great buys for Black Friday, so congratulations to all the savvy shoppers! Those who were slow off the mark hopefully went on a Best Buy run for Cyber Monday.
Phones
With new releases and (potentially) great savings, now might be the time to "accidentally" lose your old phone and trade in for the upgrade.
Seriously, Sam's Club is clearly not a Cyber Monday type of company...
Toys
Toys are one of those categories that just tend to be in danger of being sold out during the holidays. Here's hoping that you won't need to do battle this winter season for the perfect gift.
Toys had the least amount of price variation of all the categories, so hopefully these sales will continue on through the winter season.
Wrap Up
Remember to stay tuned for the continuation of this series - subscribe to our blog. We'll be monitoring products and prices throughout the Christmas shopping season so you don't have to.
In the next post, we'll probe into whether and who abuses the Christmas season by increasing their list prices ahead of holiday sales.