Winter sales showdown: Black Friday vs Cyber Monday vs Green Monday
Check out Part 1 comparing Black Friday and Cyber Monday
The Dust has Settled
Welcome to Part 2 of the ongoing series tracing the prices of popular products across multiple vendors throughout the winter season. Starting from Black Friday and continuing through to January, we are keeping a close eye on price movements and the actual effects of discounts during specific days or weekends.
Last Monday, December 14, was Green Monday, yet another online sales day. Green Monday takes place on the second Monday in December and is supposedly the third largest discount day after Black Friday and Cyber Monday. This post dishes all the dirt on whether or not you missed the boat on rock-bottom deals during Black Friday and Cyber Monday or if Green Monday managed to live up to its more well-known discount relatives.
So without further ado, let's dive right into the aftermath.
Tech and Trivia
I laid out our methodology, parameters, and intervals in the first post, but I am going to continue to update the Tech and Trivia section so that you can follow along with the obstacles and solutions that have cropped up in the course of this project.
Our graphs show a direct comparison of prices across Black Friday, Cyber Monday, and Green Monday and are divided further by product and by retailer. If there is data missing from certain days, but present on others, this signifies that the product was out of stock or that it is newly being offered by the retailer.
We have been accumulating data since Black Friday and scraping retailer websites every 30 minutes. In order to keep our spiders running so consistently, we used Scrapy Cloud. As an aside we recently released an updated version of shub so you can do this from the command line. See the documentation for details.
We deployed our spiders to Scrapy Cloud, which is as simple as typing shub deploy black_friday_project. Then it was just a matter of scheduling our spiders to run periodically and letting Scrapy Cloud handle the rest. Apart from running our spiders and storing all of the data collected, Scrapy Cloud allowed us to monitor the execution of the spiders and to review the data in its web UI.
The Results
The results varied widely. It seems that some companies even extended sale prices from Black Friday onward to continue to capitalize on how well certain products sold (so if you wanted an Xbox One bundle, you've still got a shot). This resulted in minimal price variations for a few products in each of the categories from the last three weeks.
I actually picked up a FitBit Charge HR on Black Friday since I was worried about future price fluctuations going into December. Let's find out if my prudence served me well or if I could have waited to make my big purchase.
Tablets
Tablets actually remained pretty steady over the last few weeks. Most of the big steals for Green Monday ended up being from Best Buy for the iPad Air 2, iPad Mini 4, and the Dell Venue 8 7000. Amazon tapped a little into Green Monday by dipping the price of the iPad Pro 128GB.
Wearables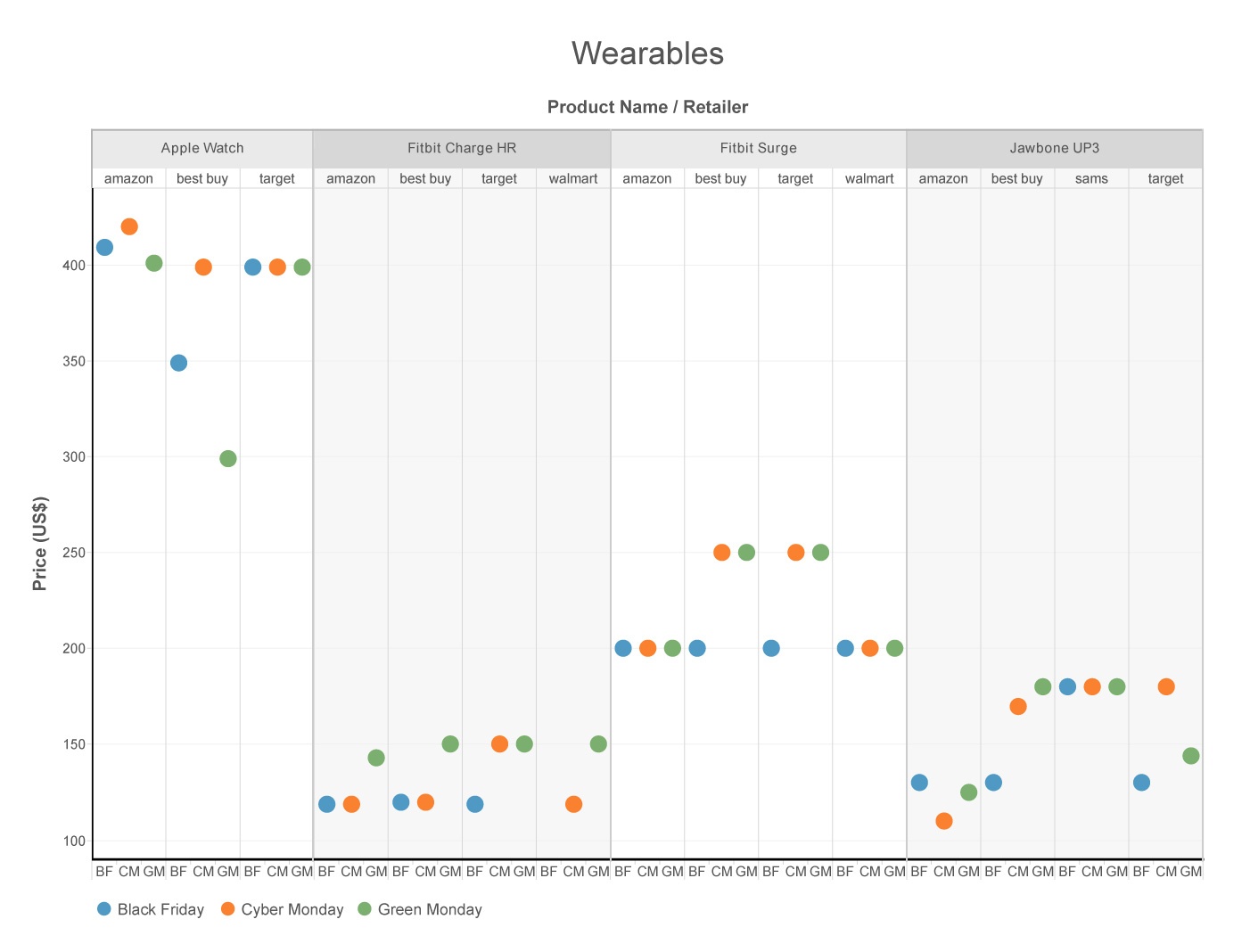 Looks like it was a good thing that I snagged a Fitbit Charge HR when I had the chance! Green Monday was not kind to sales for this particular product.
Green Monday was clearly the day to pick up an Apple Watch. Although, keep in mind that our prices don't reflect gift cards and other bundle deals.
The cheapest Jawbone UP3 by far and away was from Amazon on Cyber Monday.
Home Theater
Black Friday seemed to be the best day overall for deals on home theater products. The only Green Monday notable is the Google Chromecast offered by Best Buy and Walmart.
Video Game Consoles
Green Monday definitely showed great form in the Video Game Console category with many prices matching Black Friday or even lower. The Nintendo 3DS XL was an especially great purchase in case you missed the initial sales on Black Friday.
Phones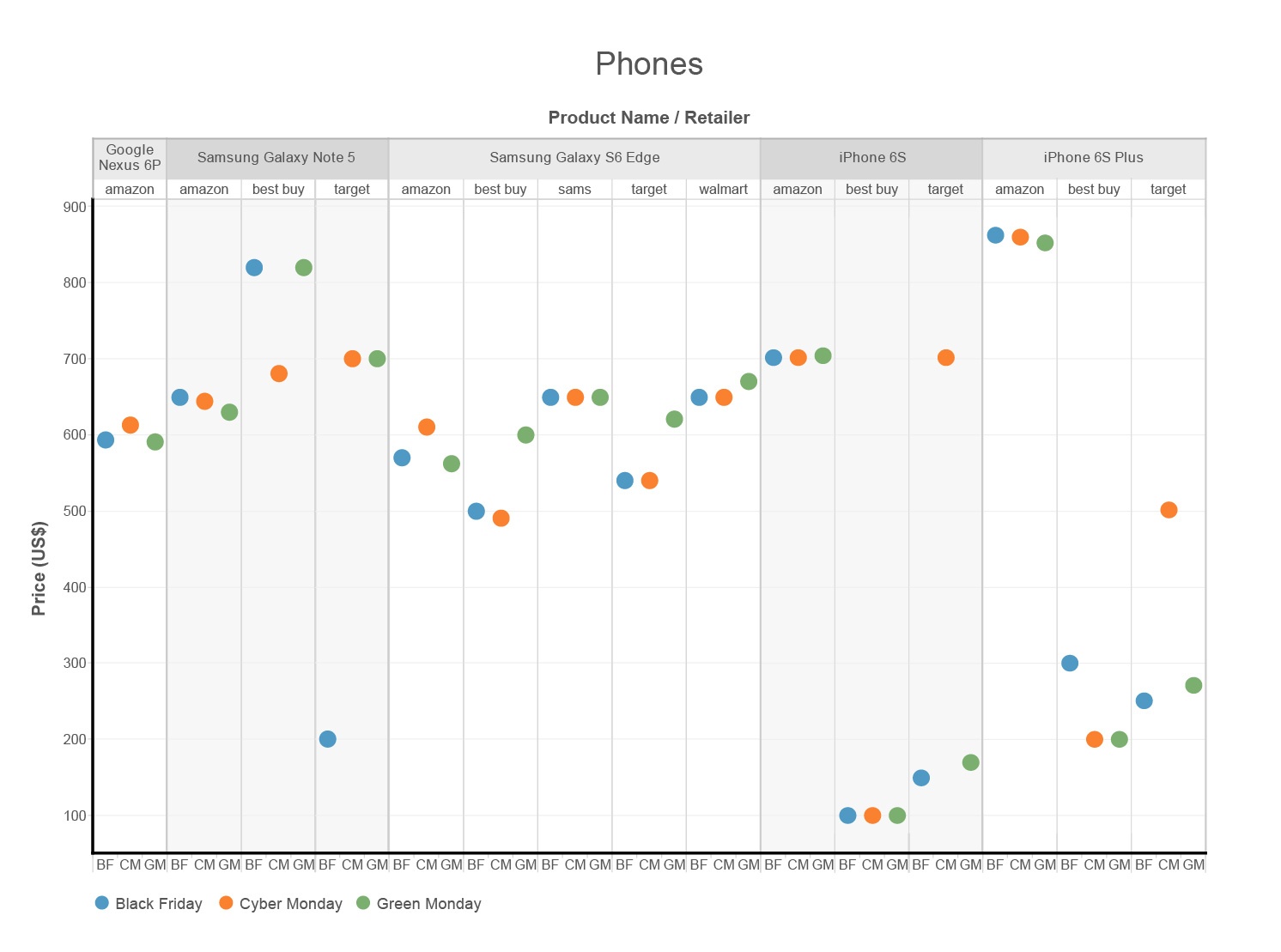 Phones has been the trickiest category to track since we were facing some stores that sell unlocked and carrier-free products while others offered great deals, but the phones are restricted to specific carriers. So if you see absolute rock-bottom prices, don't kick yourself too much, there might be strings attached.
In this case, it was honestly hit or miss, although Amazon stands out as having done well on Green Monday by having equal or lower prices for pretty much every single product.
Toys
Green Monday was a great day for toys. For every single product, you could find the lowest price, you just had to go to the right retailer. You might want to keep that in mind for next year when you're scrambling for holiday presents.
Wrap Up
Remember to follow us on Twitter, and LinkedIn or subscribe to our blog if you're interested in follow-up posts. We'll cover Christmas and New Year prices next so stay tuned!